BLEACHING CHARLOTTENBURG & SCHÖNEBERG
Dentist Dr. Muhle & Partner
The desire for a bright, white smile is nowadays increasing, which is highlighted by a recent study showing that 85% of all people would like to have whiter teeth. Beautiful, white teeth are a symbol for health, vitality and attractiveness, as well as play a crucial role in strengthening one´s own self-confidence. The longing for white teeth is within easy reach: In our practices in either Berlin-Schöneberg or at the Kufürstendamm in the heart of Berlin we offer you different methods to effortless, gently and visibly whiten your teeth.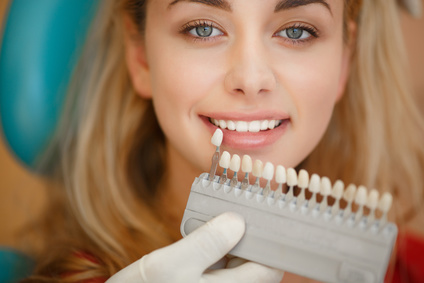 What are the causes of tooth discoloration?
The discoloration of teeth can be attributed to various causes. Frequently, however, the consumption of staining food or beverages such as red wine, coffee, tea or Coca-Cola leads to undesired stains. Moreover, the use of tobacco or certain medication (such as penicillin) can cause stains as well. Discoloration may either appear on the surface of the tooth (extrinsic stains) or below the dental enamel (intrinsic stains).
Tooth whitening is a procedure by which the color of your teeth become whiter without harming the enamel, dentin or intact fillings. Before the actual treatment, however, it is recommend to undergo a professional dental cleaning in order to be able to determine the natural tooth color and further it is necessary to check the teeth and gum for any dental diseases.
We offer two different methods of tooth bleaching, which are as follows:
IN-OFFICE TOOTH BLEACHING
In-office bleaching is particularly well suited for patients who want to avoid wearing a bleaching rail and want visible result in a short time. The in-office whitening is performed using the Philips ZOOM lamp and is directly carried out in one of our dental practices. The Philips ZOOM light-activated tooth whitening intensifies the effect of the applied bleaching gel. Therefore, this lamp allows us to brighten your teeth up to a range of 8 colour shades, depending on the individual indication.
After a short preparation time where your gums and lips are covered, a bleaching gel is applied onto your teeth. Subsequently, the Philips ZOOM lamp is directed towards your teeth and in only 15 minutes the effect of the bleaching gel is activated. Depending on the desired colour shade this procedure can be repeated three to four times.
Moreover, it is also possible to whiten teeth, which either have a dead dental nerve or had previously undergone root canal treatment. However in those cases, whitening from the outside is not effective. Thus, the filling of the tooth is removed and the bleaching gel is subsequently filled into the root canal and remains there until the desired degree of whitening is achieved. After successful bleaching the tooth is sealed with a tooth-coloured plastic filling.
AT-HOME TOOTH BLEACHING
In our Berlin dental practices we are able to produce a transparent bleaching tray by means of a pre-made dental impression, so they perfectly fit to your teeth. The bleaching gel is applied into the rail and is worn in the evening or at night. The bleaching gel can be purchased in one of our dental practices. The bleaching tray is left in the mouth for a certain time, so you can determine the desired tooth shade yourself. This method can be applied as often as desired and depending on the wanted degree of whitening, there are different concentrations of the bleaching gel. With regular monitoring in our dental practice, this method has proved effective particularly for lightening of the entire dental arch. However, crowns and composite fillings can unfortunately not be lightened.
If you desire beautiful, white teeth you can make an appointment in one of our dental practices either in the Landshuter Street (near the Bavarian square) or at the Kurfürstendamm. We will determine together with you in a personal consultation, which whitening technique is most suitable for you.