IMPLANT DENTISTRY CHARLOTTENBURG & SCHÖNEBERG
Dentist Dr. Muhle & Partner
The implant dentistry (from the Latin in "in" and planta: "cutting, seedling") as a branch of dentistry is concerned with the insertion of dental implants into the jawbone. Implant dentistry makes it possible to replace missing teeth with an artificial root as well as to firmly and permanently anchor it into the jawbone. The implants may consist in the in form of titanium or ceramic.
With the help of implants we can provide a solution not only for single tooth gaps, but also ensure stable denture retention in a toothless jaw.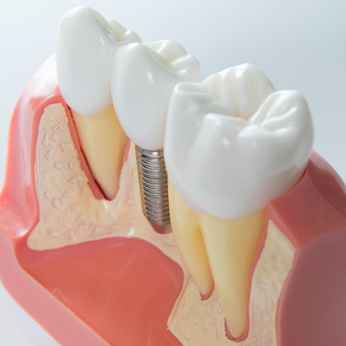 HOW DOES AN IMPLANTATION TAKE PLACE?
Essential for a successful implantation is an inflammation-free periodontal and the presence of sufficient bone tissue. Should this have regressed, a prior bone augmentation with different methods is possible.
The implant is placed into the jawbone during a small surgical procedure and must sufficiently heal for a period of two to three months. During the healing process a bony bond between the implant and the jawbone is created which we need to load the implant. After this healing period, the implant may, depending on the patient's case, be provided with a crown, bridge construction or prosthetic anchoring.
In the area of implantology, we recommend implants that are inserted into the edentulous jaw as a tooth root replacement. The proportion, which is placed into the jaw, can be formed in different shapes, for example as helical, cylindrical or as differently shaped e.g. leaf-like body.
We only use the highest quality materials in the field of implantology. Patients are often offered inexpensive titanium alloys as an implant material, but this can cause allergic or foreign body reactions under certain circumstances. Therefore, we use only the most modern dental implants made ​​of pure titanium. Titan is biologically neutral and releases no defensive reactions of the body, since it, unlike other materials, enters into a direct molecular connection with the bone.
A prerequisite for a successful healing period is an excellent oral hygiene. The status of the oral hygiene plays a crucial role in the lifetime of an implant. The better the care, the longer it last. We recommend a regular prophylactic treatment to increase the lifetime of an implant.
Do you have any remaining questions about implant dentistry? Call us to arrange a consultation or prophylaxis appointment in one of our clinics in Berlin-Schöneberg, or at the Kurfürstendamm.